Orlando DuPont, LMT/RP
Licensed Massage Therapist # MT.0016229 - Denver School of Massage Therapy Aurora, Colorado
Reiki 2 Practitioner - School of Healing Arts Arvada, Colorado
Service Pricing & Online Booking
(303) 591-1617
Orlando has always been a natural born healer, his earlier jobs always consisted of caring for others. He enjoyed his past careers where it was his job to help others feel better, working as a private home care provider and as a dietary and activity assistant in a long term nursing home. In 2013, he decided to expand his career, moved to Aurora, Co from the Del Norte, Co to study massage. He became a licensed massage therapist in 2014. Since then, he has accumulated a total of 79.5 Credit Hours related to massage. He is certified in RockPod Cupping, and Level 2 Reiki. He continues to further his education in both Massage and Reiki philosophies and has became and avid believer and reader of Oracle/Tarot Cards.
Orlando believes healing others in return helps him heal, enabling the ability to create more peace in the world. He has a close knit family living throughout the San Luis Valley. Orlando currently resides in San Luis, CO and has a four legged son named George.
On his free time he enjoys nature walks, traveling, performing arts, and attending gem show, paranormal, and UFO research conventions.
TAKE CARE OF YOUR BODY, IT'S THE ONLY PLACE YOU HAVE TO LIVE! - JIM ROHN
Booking and Cancellation Policy: Our cancellation policy results in a 50% charge of your service (In-Studio & Mobile) if you fail to notify business within a 12 hour time-frame. If client is unable to give 24 hour cancellation notification due to a dire circumstance, the fee maybe waived by the discretion of the therapist. In-Studio NO SHOWS or failure to be at address of provided for mobile services at the scheduled time will result in FULL CHARGE of your scheduled service.
Therapist Safety: Inappropriate behavior, sexual innuendos/suggestions are strictly prohibited and will result in the immediate end or cancellation of your appointment. If this situation occurs you will be CHARGED FULL PRICE and be REPORTED TO AUTHORITIES AND THE MASSAGE THERAPIST COMMUNITY!
Covid-19 Precautions: Strong Soul Massage & Reiki is taking the Corona Virus pandemic very seriously and we are doing what we can to ensure the safety of our community. We are offering Distant Meditation, Distant Oracle/Tarot Readings, and Distant Reiki through (Calls, Text, or Video) on Facebook Messenger, Zoom, or Phone. Please read the following information about our required procedures while offering our hands-on In-Studio services.
In-Studio Massages
1. All intake and consent forms will be submitted digitally or can be filled out in our office before your appointment in our office.
2. If you or any members of your household have been out of state, have knowingly been exposed to individuals who have tested positive, or have experienced any symptoms within the last 14 days it is important you cancel or reschedule.
4. Masks are REQUIRED to be worn by therapist at all times and REQUIRED to be worn by client's who have not received both roynds of the covid-19 vaccine. Social distancing will be respected when appropriate.
5. Upon entering building you will be asked to wash or sanitize your hands before beginning of your session.
6. Proper disinfecting protocols are being utilized between each client to ensure a safe environment.
Massage License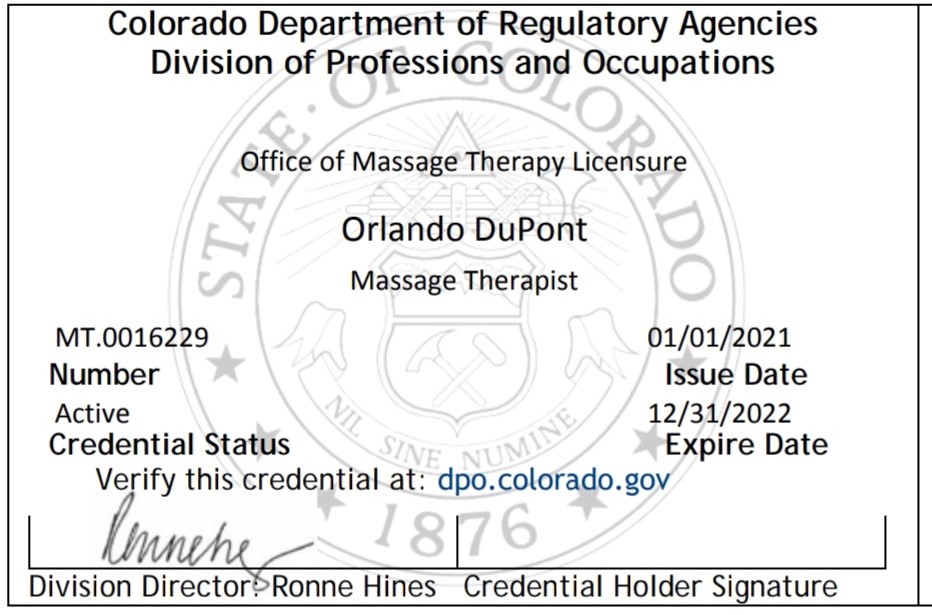 Additional Certificates