Orlando DuPont, LMT/RP
Licensed Massage Therapist # MT.0016229 - Denver School of Massage Therapy Aurora, Colorado
Reiki 2 Practitioner - School of Healing Arts Arvada, Colorado
Service Pricing & Online Booking
(303) 591-1617
Orlando has always been a natural born healer, his earlier jobs always consisted of caring for others. He enjoyed his past careers where it was his job to help others feel better, working as a private home care provider and as a dietary and activity assistant in a long term nursing home. In 2013, he decided to expand his career, moved to Aurora, Co from the Del Norte, Co to study massage. He became a licensed massage therapist in 2014. Since then, he has accumulated a total of 79.5 Credit Hours related to massage. He is certified in RockPod Cupping, and Level 2 Reiki. He continues to further his education in both Massage and Reiki philosophies and has became and avid believer and reader of Oracle/Tarot Cards.
Orlando believes healing others in return helps him heal, enabling the ability to create more peace in the world. He has a close knit family living throughout the San Luis Valley. Orlando currently resides in San Luis, CO and has a four legged son named George.
On his free time he enjoys nature walks, traveling, performing arts, and attending gem show, paranormal, and UFO research conventions.
Massage License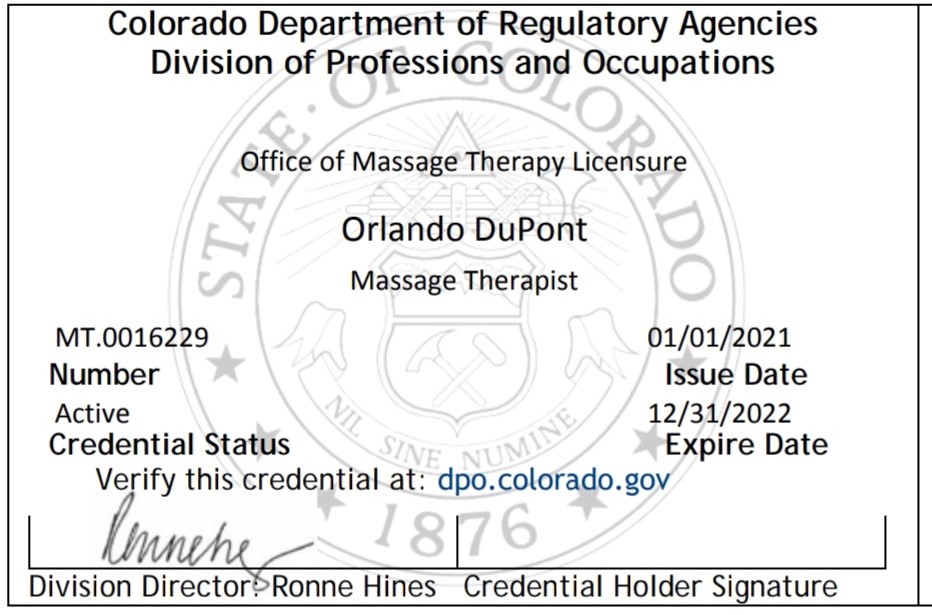 Additional Certificates